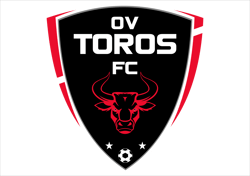 Spring 2024 Rec Program
Welcome to the OV Toros FC Spring 2024 recreational program!
Our Spring 2024 recreational program runs for 10 weeks. Each player receives one coaching session per week with the OV Toros FC professional coaching team. They will play 8 game days (pending age group). Throughout the 10 weeks, the program provides the players with the opportunity to learn fundamental and new soccer skills through our different weekly topics. On game days, we work with volunteer coaches (parents/guardians/siblings) to assist the running of the teams. The players will start game days a couple of weeks into our Recreational program start date.
Our U6 players will be grouped on ability/skill level each game day to make sure games are fun and challenging for each player.

Our U8 to U14 players will be put in teams for game days within the first two weeks of the season and will stay in the same team throughout. Players will have the opportunity for one buddy request when registering.
PROGRAM FEE
$275 - Early Bird (Nov 11th - Feb 11th)
$325 - Late Registration (After February 12th, 2024)
Fee includes OV Toros FC practice jersey and game day uniform (U6 receive game jersey only.)
PROGRAM DATES
Registration Opens - November 11th, 2023
Early Bird Registration Ends - February 11th, 2024
Online Registration Closes - March 10th, Wait list formed
Practice start date - Week of March 11th
Game days start date - U6/U8 - March 23rd @ PA Walsh
No games on weekend of March 30th/31st
Game days start date - U10 to U14 - March 23rd* (*Pending play thru schedule
Practices end - May 17th
Season ends - May 18th/19th

AGE GROUPS
U6 - 2018/2019
U8 - 2016/2017
U10 - 2014/2015
U12 - 2012/2013
U14 - 2010/2011
U16 - 2008/2009
LOCATIONS:
Practices: Morgan Hill (all ages groups) - Morgan Hill Outdoor Sports Complex, 16500 Condit Road· Gilroy (U6 and U8) - Brownell Middle School, 7701 Hanna Street
Game days: U6 and U8 will play at PA Walsh School, Peak Ave, Morgan Hill· U10 to U14 home games will vary from Morgan Hill Complex to Kirigin Winery and other local schools fields.
Away games will vary with other local recreational program fields.
BEING A VOLUNTEER COACH
Volunteer coaches are required to complete the following:
Online registration on our website
Register Team Staff / Volunteer Online background check - sent through by Registrar
Lots of enthusiasm and positivity!
Register here.
What the club will provide:
Every volunteer coach will receive an OV Toros FC jersey to wear every game day. A volunteer coach training event to all coaches who'd like to learn further session ideas they can run with their team on their optional weekly session. Full support to provide a successful season. Volunteer coach responsibilities throughout the season
U6: under the supervision of our professional coach, U6 volunteer coaches will help run fields every Saturday at PA Walsh School.
U8: under the supervision of our professional coach, U8 volunteer coaches will help run a team every Saturday at PA Walsh School and work with the other team coach to facilitate a fun and competitive game!
U10 to U14: volunteer coaches will help run a team every weekend either home or away through the Play Thru system.
U10 to U14 volunteer coaches can run a session every week with their team (separate to the professional coaching session) at PA Walsh School.
QUESTIONS?
If you have any questions, please contact our Rec and Camps Director, Fidel Egbe at recdirector@ovtorosfc.com.